By James Ooi/ uSMART Market Strategist
Over 13 years of experience in buy-side and sell-side of capital markets
Former Fund Manager of renowned asset management firm
Focus on fundamental analysis and macro-outlook for US & Singapore markets
SGX Academy trainer


US Macro Strategy Weekly Report – 4 September 2023


【This Week's Market Outlook】:
The 2Q 2023 earnings season is wrapping up, with most of the significant earnings reports already published. Consequently, US stock prices in September will be primarily influenced by economic data.

The U.S. stock market is closed on Monday due to Labor Day. The key economic data for this week includes durable goods orders on Tuesday, ISM Non-Manufacturing Purchasing Managers' Index (PMI) on Wednesday, and the Federal Reserve Beige Book and initial jobless claims on Thursday. Additionally, several Fed officials will make public speeches this week.

September typically stands out as the worst performing month of the year, averaging a loss of 1.26% over the past 25 years. Therefore, it is surprising to see that NAAIM Exposure Index, which represents the average exposure of active fund managers to US Equity markets, is at a current level of 61.19 (Figure 1). This figure is lower than the year-to-date average of 67.82, suggesting that US active fund managers are adopting a risk-off approach as they enter September.

 
Figure 1: NAAIM Exposure Index vs S&P 500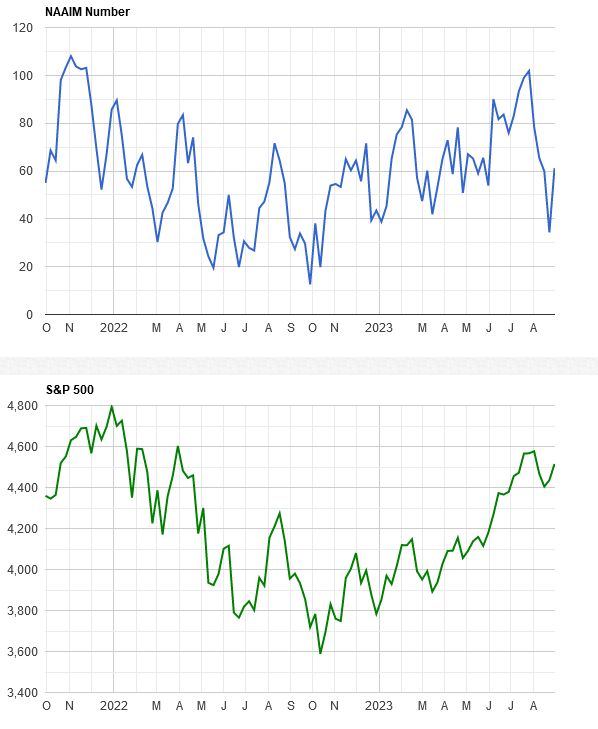 Source: NAAIM, 30 Aug 2023
While the S&P 500 saw three drawdowns exceeding 10% in 2022, 2023 witnessed only two relatively smaller drawdowns of 7.8% and 4.8% (Figure 2). Consequently, there are limited opportunities for investors to position themselves in 2023.

Moreover, if investors are adopting a risk-off approach this year by increasing their exposure to bonds and defensive sectors, or reducing their portfolio's equity market exposure, their performance will lag behind the benchmark indices. For example, take the AGG ETF - iShares Core US Aggregate Bond ETF, which typically mirrors the performance of the U.S. investment-grade bond market and has only yielded a 1.08% return year-to-date.
Figure 2: S&P 500's drawdowns in 2022 and 2023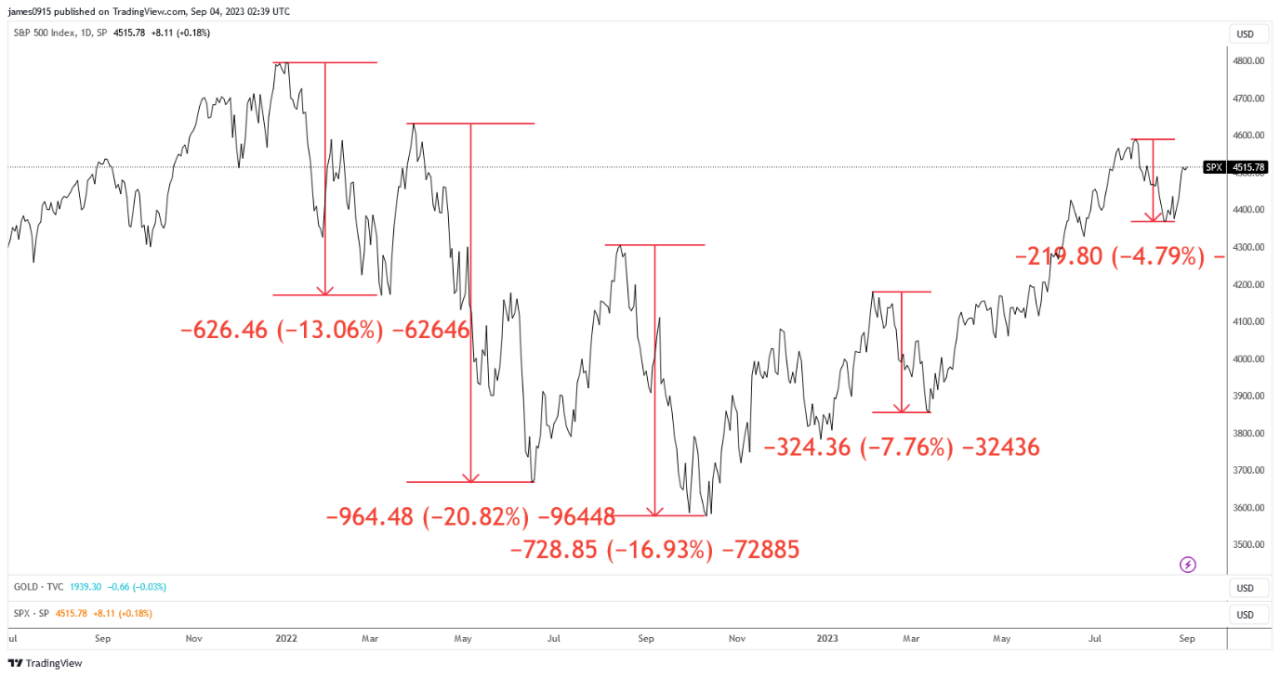 Source: Tradingview, 1 Sep 2023
Most analysts now predict that we have witnessed the steepest year-on-year decline in S&P 500 earnings in Q2 2023, and earnings year-on-year growth are expected to improve from Q3 2023 onward. This suggests that September might be the final down month of the year. As Q3 2023 earnings begin to release in October, combined with favorable market seasonality in the final quarter of the year, we may witness a meaningful stock rally in Q4.
Figure 3: S&P 500 Earnings Forecast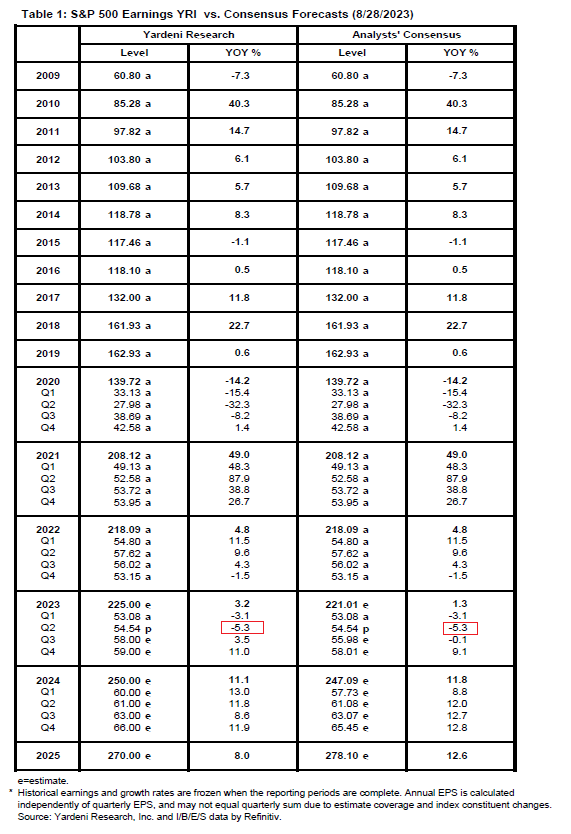 Source: Yardeni, 28 Aug 2023
Figure 4: Monthly performance of the MOVE Index over the past 25 years.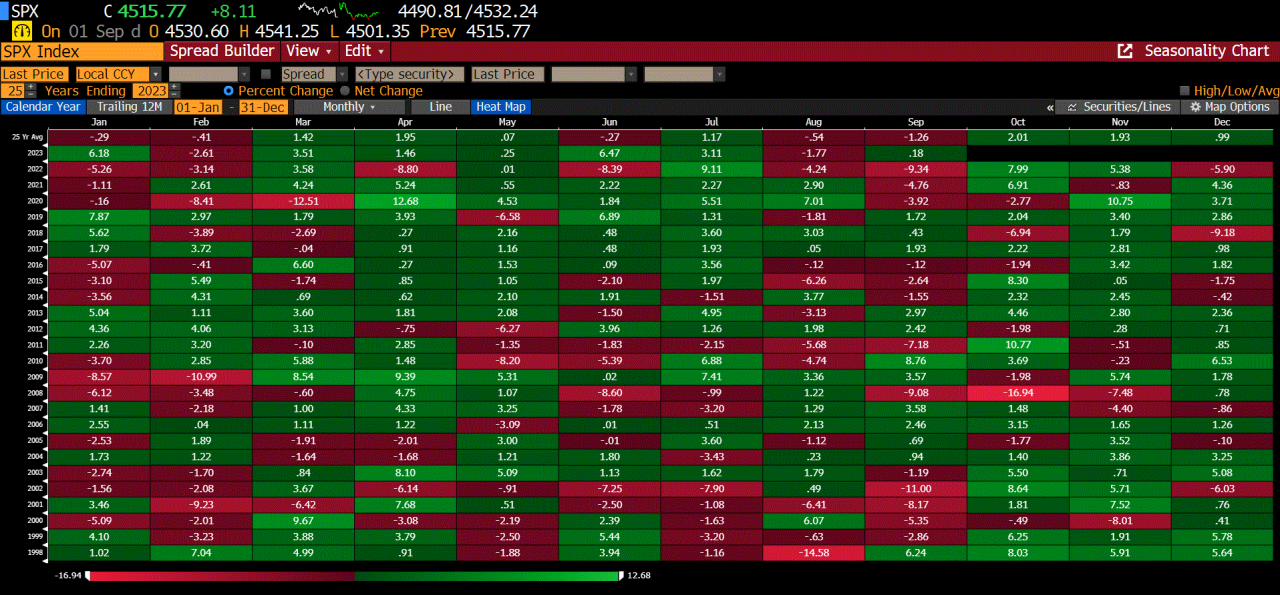 Source: uSMART, Bloomberg, 4 Sep 2023
【Follow us】:
Find us on Twitter, Instagram, YouTube, and TikTok for frequent updates on all things investing.
Have a financial topic you would like to discuss? Head over to the uSMART Community to share your thoughts and insights about the market! Click the picture below to download and explore uSMART app!

Disclaimer:
This article is intended for general circulation and educational purpose only and does not take into account of the specific investment objectives, financial situation or particular needs of any particular person. You should seek advice from a financial adviser regarding the suitability of the investment products mentioned. In the event you choose not to seek advice from a financial adviser, you should consider whether the investment product in question is suitable for you.
Past performance figures as well as any projection or forecast used in this article, are not necessarily indicative of future performance of any investment products. Your investment is subject to investment risk, including loss of income and capital invested. The value of the investment products and the income from them may fall or rise. No warranty whatsoever is given and no liability whatsoever is accepted for any loss arising whether directly or indirectly as a result of this article. Overseas investments carry additional financial, regulatory and legal risks, you should do the necessary checks and research on the investment beforehand.
The information contained in this article has been obtained from public sources which the uSMART Securities (Singapore) Pte Ltd ("uSMART") has no reason to believe are unreliable and any research, analysis, forecast, projections, expectations and opinion (collectively "Analysis") contained in this article are based on such information and are expressions of belief only. uSMART has not verified this information and no representation or warranty, express or implied, is made that such information or Analysis is accurate, complete or verified or should be relied upon as such. Any such information or Analysis contained in this presentation is subject to change, and uSMART, its directors, officers or employees shall not have any responsibility for omission from this article and to maintain the information or Analysis made available or to supply any corrections, updates or releases in connection therewith. uSMART, its directors, officers or employees be liable for any or damages which you may suffer or incur as a result of relying upon anything stated or omitted from this article.
Views, opinions, and/or any strategies described in this article may not be suitable for all investors. Assessments, projections, estimates, opinions, views and strategies are subject to change without notice. This article may contain optimistic statements regarding future events or performance of the market and investment products. You should make your own independent assessment of the relevance, accuracy, and adequacy of the information contained in this article. Any reference to or discussion of investment products in this article is purely for illustrative purposes only, is not intended to constitute legal, tax, or investment advice of any investment products, and must not be construed as a recommendation, an offer or solicitation for the subscription, purchase or sale of the investment products mentioned. This article does not create any legally binding obligations on uSMART. uSMART, its directors, connected persons, officers or employees may from time to time have an interest in the investment products mentioned in this article.