James Ooi/ uSMART Market Strategist
Over 13 years of experience in buy-side and sell-side of capital markets
Former Fund Manager of renowned asset management firm
Focus on fundamental analysis and macro-outlook for US & Singapore markets
SGX Academy trainer
US Macro Strategy Weekly Report
This Week's Market Outlook:
We are now 10 days into September, and the S&P 500 has declined by 1.11%.

Today marks the beginning of the Fed's pre-rate-decision blackout period, during which members of the FOMC won't make statements to the press.

This week's significant economic data includes the release of the Consumer Price Index (CPI) on Wednesday, followed by the Producer Price Index (PPI) and Retail Sales on Thursday. It's possible that stocks will mostly trade sideways until the US CPI data is released.

Other than Oracle and Adobe, which are scheduled to release earnings on Monday and Thursday respectively, there are no other important earnings scheduled for this week.

We are currently facing growing challenges that prompt us to take a cautious stance in September (Figure 1):
Crude oil prices have surged to their highest levels in 2023, posing a potential threat to global inflation concerns.

The 10-year bond yield has surpassed its 2022 peak, potentially triggering a stock sell-off due to the inverse relationship between the discount rate and present value.

A stronger dollar is diminishing the competitiveness of U.S. exporters' products in foreign markets, which could have a detrimental impact on the earnings of U.S. companies.
Figure 1: US Dollar Index, US Bond Yield and Crude Oil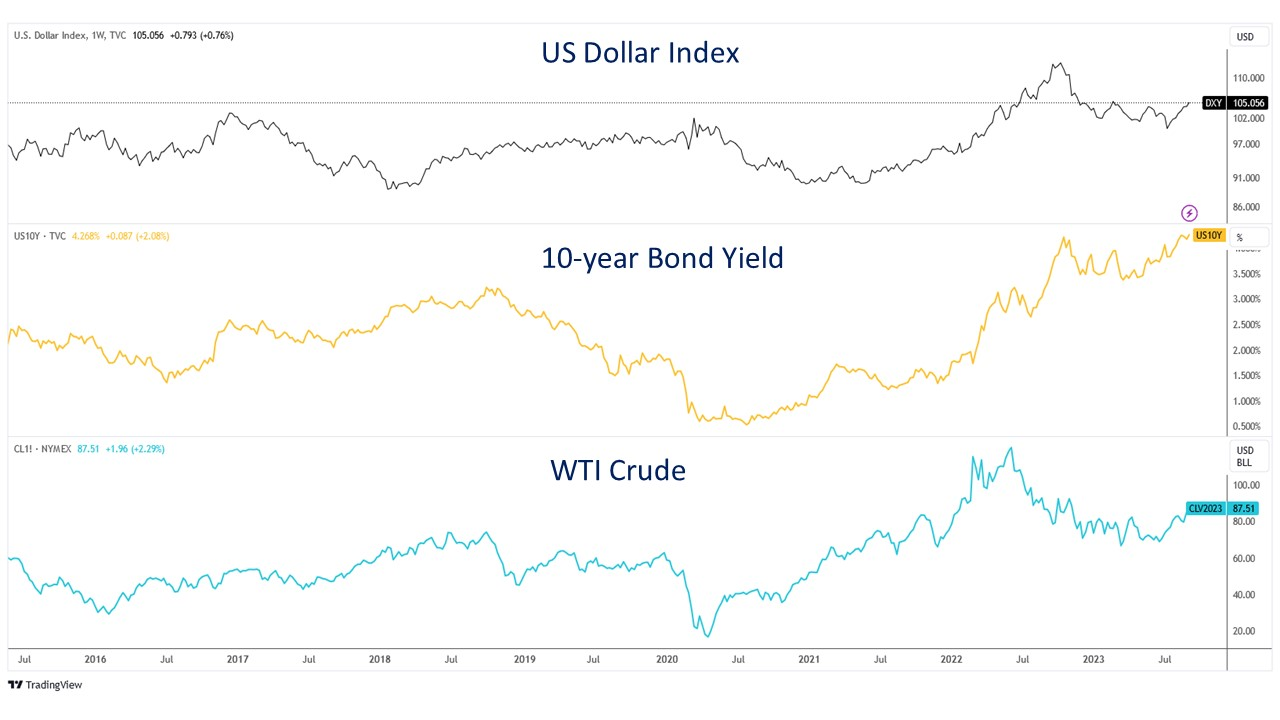 Source: Tradingview, 10 Sept 2023
Generative AI has surged to the peak of inflated expectations in Gartner's 2023 hype cycle, and is projected to reach transformational benefit within two to five years (Figure 2). Although the hype cycle has never served as a guide for buying, selling, or holding specific companies or industries, it does indicate that the AI hype may begin to wane. Perhaps it is time for 'AI companies' to start generating tangible results rather than merely mentioning more 'AI' during earnings calls."
Figure 2: Hype Cycle for AI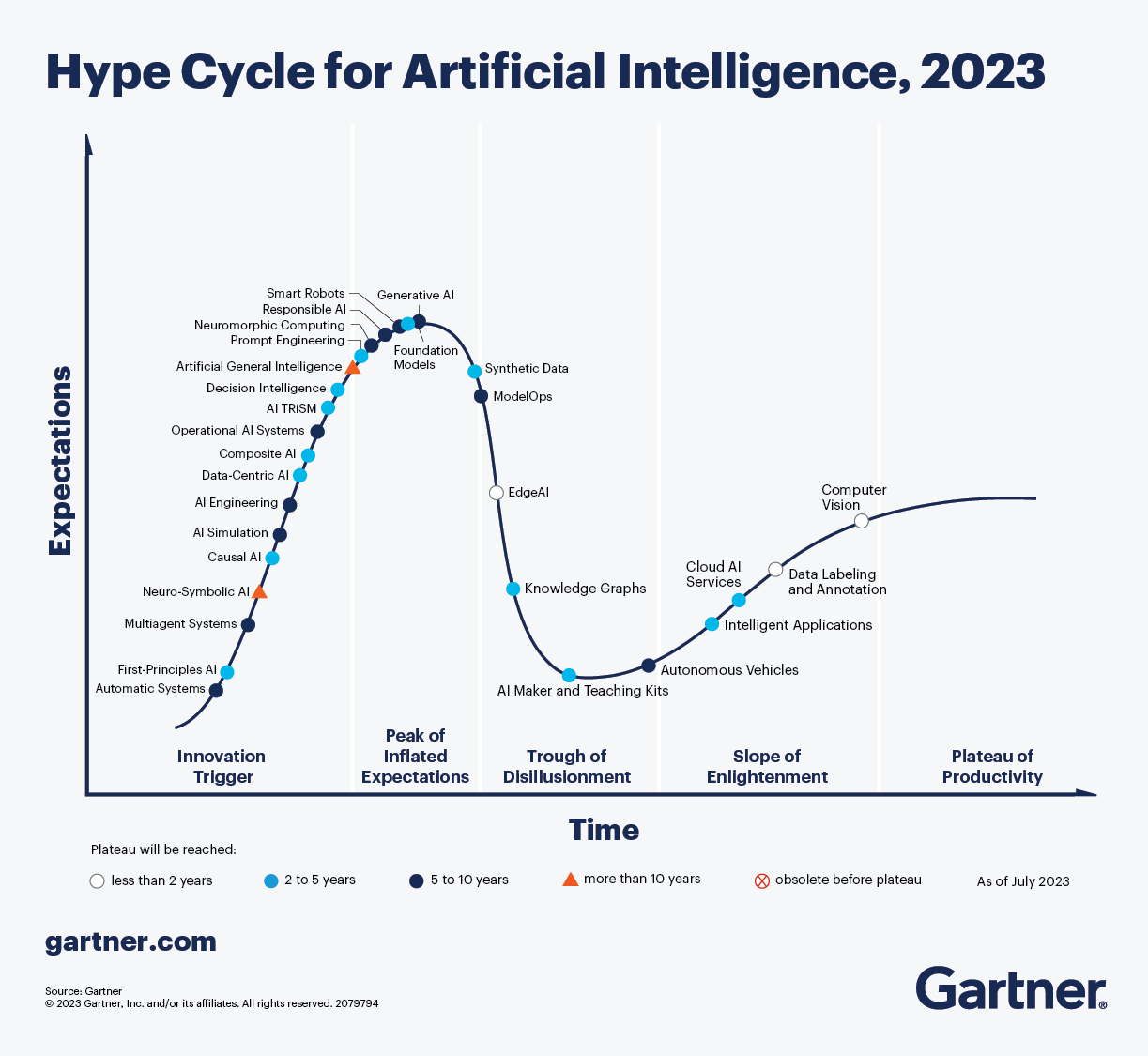 Source: Gartner, Jul 2023
Risk-off sectors like utilities and consumer staple fell 8.95% and 2.64% respectively year-to-date, while other risk-on or technology related sectors like consumer discretionary, communication and technology still returned more than 30% thus far in 2023.
Figure 3: Monthly performance of the S&P 500

Source: uSMART, Bloomberg, 10 September 2023
The equity risk premium now indicates that US stocks appear unattractive (Figure 4).

The equity risk premium currently stands at 0.29%, while the S&P 500 is trading at 4,457 points.

The S&P 500 reached its lowest point in 2022 in October. In contrast, when the S&P 500 was trading at an average price of 3,719 points in October 2022, the equity risk premium averaged 1.66%.
Figure 4: Equity Risk Premium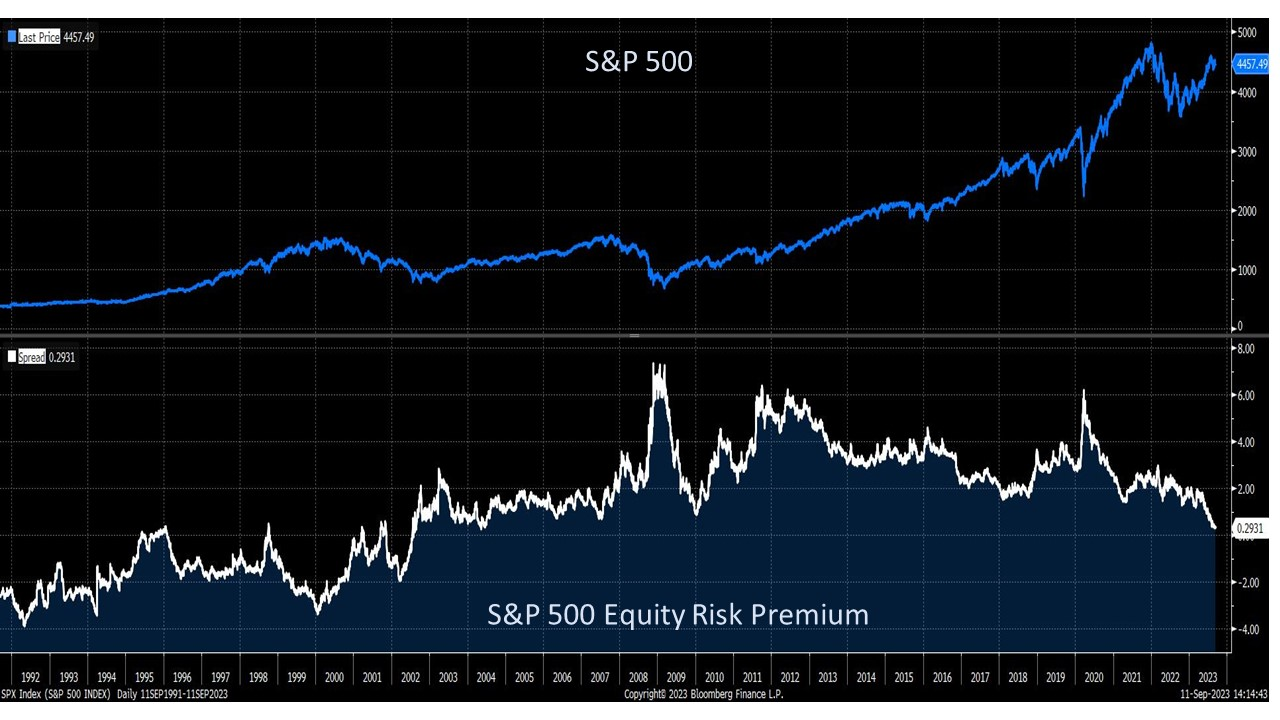 Source: uSMART, Bloomberg, 11 Sep 2023
【Follow us】:
Find us on Twitter, Instagram, YouTube, and TikTok for frequent updates on all things investing.
Have a financial topic you would like to discuss? Head over to the uSMART Community to share your thoughts and insights about the market! Click the picture below to download and explore uSMART app!

Disclaimer:
This article is intended for general circulation and educational purpose only and does not take into account of the specific investment objectives, financial situation or particular needs of any particular person. You should seek advice from a financial adviser regarding the suitability of the investment products mentioned. In the event you choose not to seek advice from a financial adviser, you should consider whether the investment product in question is suitable for you.
Past performance figures as well as any projection or forecast used in this article, are not necessarily indicative of future performance of any investment products. Your investment is subject to investment risk, including loss of income and capital invested. The value of the investment products and the income from them may fall or rise. No warranty whatsoever is given and no liability whatsoever is accepted for any loss arising whether directly or indirectly as a result of this article. Overseas investments carry additional financial, regulatory and legal risks, you should do the necessary checks and research on the investment beforehand.
The information contained in this article has been obtained from public sources which the uSMART Securities (Singapore) Pte Ltd ("uSMART") has no reason to believe are unreliable and any research, analysis, forecast, projections, expectations and opinion (collectively "Analysis") contained in this article are based on such information and are expressions of belief only. uSMART has not verified this information and no representation or warranty, express or implied, is made that such information or Analysis is accurate, complete or verified or should be relied upon as such. Any such information or Analysis contained in this presentation is subject to change, and uSMART, its directors, officers or employees shall not have any responsibility for omission from this article and to maintain the information or Analysis made available or to supply any corrections, updates or releases in connection therewith. uSMART, its directors, officers or employees be liable for any or damages which you may suffer or incur as a result of relying upon anything stated or omitted from this article.
Views, opinions, and/or any strategies described in this article may not be suitable for all investors. Assessments, projections, estimates, opinions, views and strategies are subject to change without notice. This article may contain optimistic statements regarding future events or performance of the market and investment products. You should make your own independent assessment of the relevance, accuracy, and adequacy of the information contained in this article. Any reference to or discussion of investment products in this article is purely for illustrative purposes only, is not intended to constitute legal, tax, or investment advice of any investment products, and must not be construed as a recommendation, an offer or solicitation for the subscription, purchase or sale of the investment products mentioned. This article does not create any legally binding obligations on uSMART. uSMART, its directors, connected persons, officers or employees may from time to time have an interest in the investment products mentioned in this article.