Last week, U.S. markets closed higher after a stellar rally Thursday that saw Big Tech stocks soar on the back of weaker-than-expected consumer price index (CPI) data for October. The S&P 500 closed up more than 5% for the week, its best week since June.
Macro
1、Not Too-Hot CPI Print
CPI slowed for a 4th consecutive month to 7.7% in October, fuelling stock market rally on Thursday. S&P 500 posted its biggest one-day rally since 2020. As inflation is quoted in year-over-year change in price, CPI may move down faster in November and December 2022 due to higher base in 4th quarter 2021. The better-than-expected inflation data will also likely prompt Fed to slow their rate hike pace.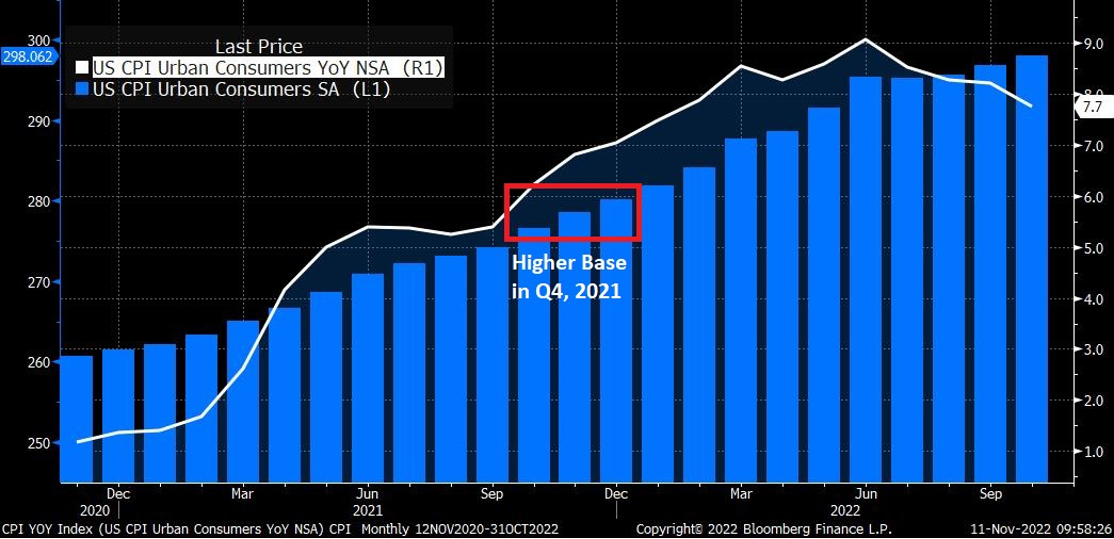 2、Elon Musk Sold Tesla Stock Again
According to SEC filings published on 8th November, Elon Musk sold 19 million shares of Tesla, which were worth $3.95 billion. The purpose of the said share sale is unknown. However, it is widely expected share sale is to fund Elon Musk's Twitter deal. Elon Musk is losing credibility with Tesla investors as he previously said he is 'done selling Tesla shares'.
3、Midterm Elections May See Key Runoff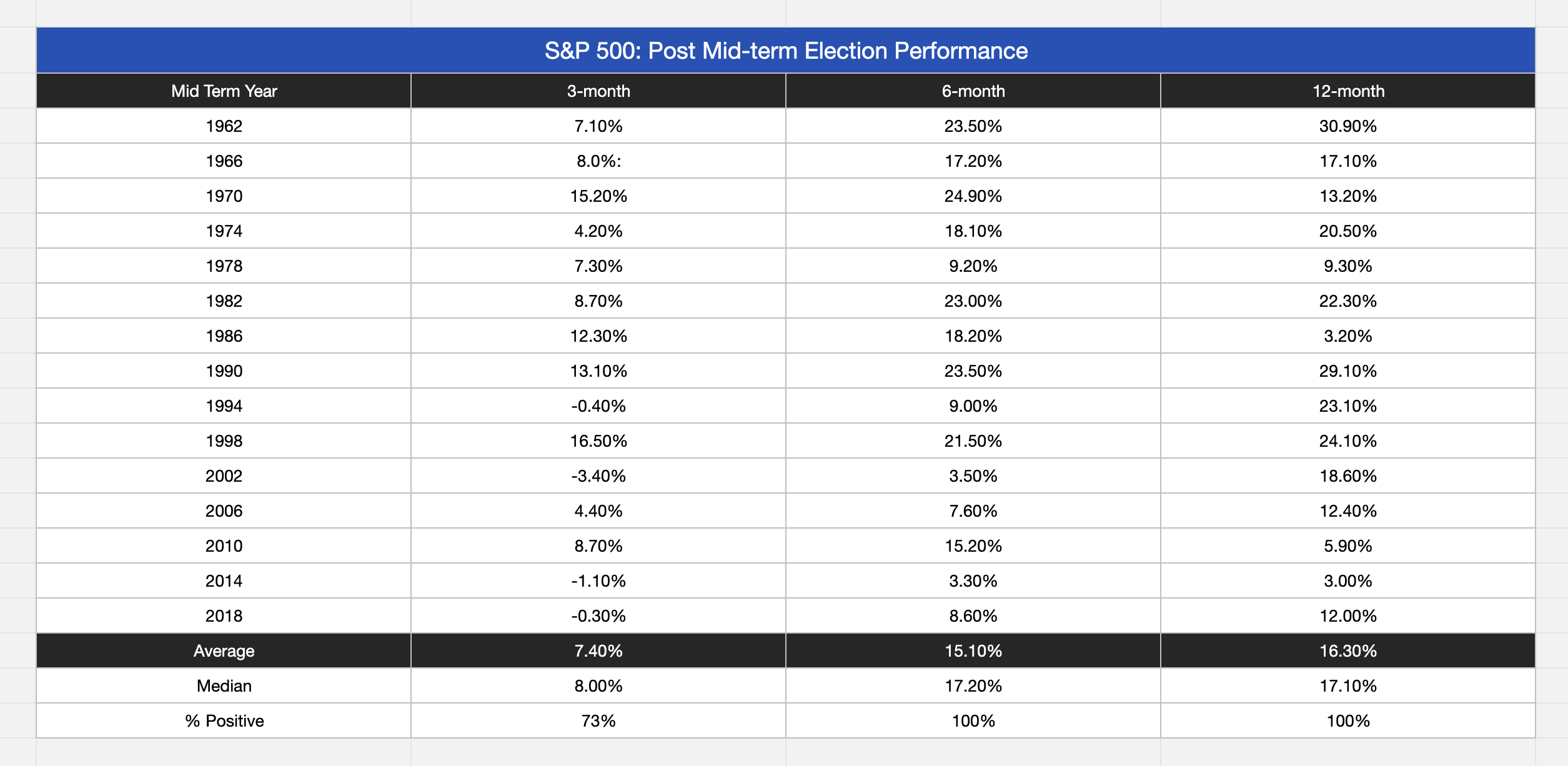 While Republican is favoured to win US House, the fate of Senate could be determined in December runoff election, at the time of writing (11 Nov 2022). Investors view that a clean sweep of Senate and House by the Republicans could set stage for a market rally as it could mean that no major economic and fiscal legislation will be pushed through in the next two years, and hence less inflationary spending. Regardless of the US midterm election results, US stocks are likely to do better post midterm. Since 1962, the S&P 500 index generated positive forward 6-month and 1-year return of 15.1% and 16.3%, respectively on average post mid-term election.
Stocks making the biggest moves on Earnings Release Dates
Lyft tumbled 23% as its earnings disappointed. Despite raising ride hailing prices, it attracts fewer riders than expected, losing out to Uber.
Take-Two Interactive dropped 14% as the company missed hugely on earnings and cut its outlook in the current quarter and fiscal 2023.
Walt Disney fell 13% due to earnings dived 46% year-over-year. However, the silver lining is Disney + soars past 235M streaming subscriptions and theme park revenues also hit new record.
Lucid fell 16% due to earnings and revenue miss. Lucid said that it is on track to meet 2022 production goals. However, Lucid said in Aug that it had over 37,000 customer reservations and now said that there is 34,000 reservations as of November 7, 2022.
Roblox Corp shares tanked 21% as its loss per share missed expectation by 46%.  However, Roblox reported 58.8 million average daily active users, up 24% year over year. Users also spent more than 13.4 billion hours engaged in Roblox during the third quarter.
NIO surged more than 11% despite widening losses. It expects to deliver 43,000 and 48,000 vehicles in the fourth quarter, beating market expectations.
In the week ahead
| | | | |
| --- | --- | --- | --- |
|   |   | Previous | Forecast |
| 15-Nov | PPI MoM | 0.40% | 0.50% |
|   | Core PPI MoM | 0.30% | 0.40% |
| 16-Nov | Retail Sales MoM | 0.10% | 0.60% |
|   | Core Retail Sales MoM | 0.00% | 0.90% |
| 17-Nov | Unemployment Claims |   |   |
|   | Building Permits | 1.56M | 1.52M |
|   | Housing Starts | 1.44M | 1.43M |
| 18-Nov | Existing Home Sales | 4.71M | 4.38M |
Earnings Calendar / EPS Forecasts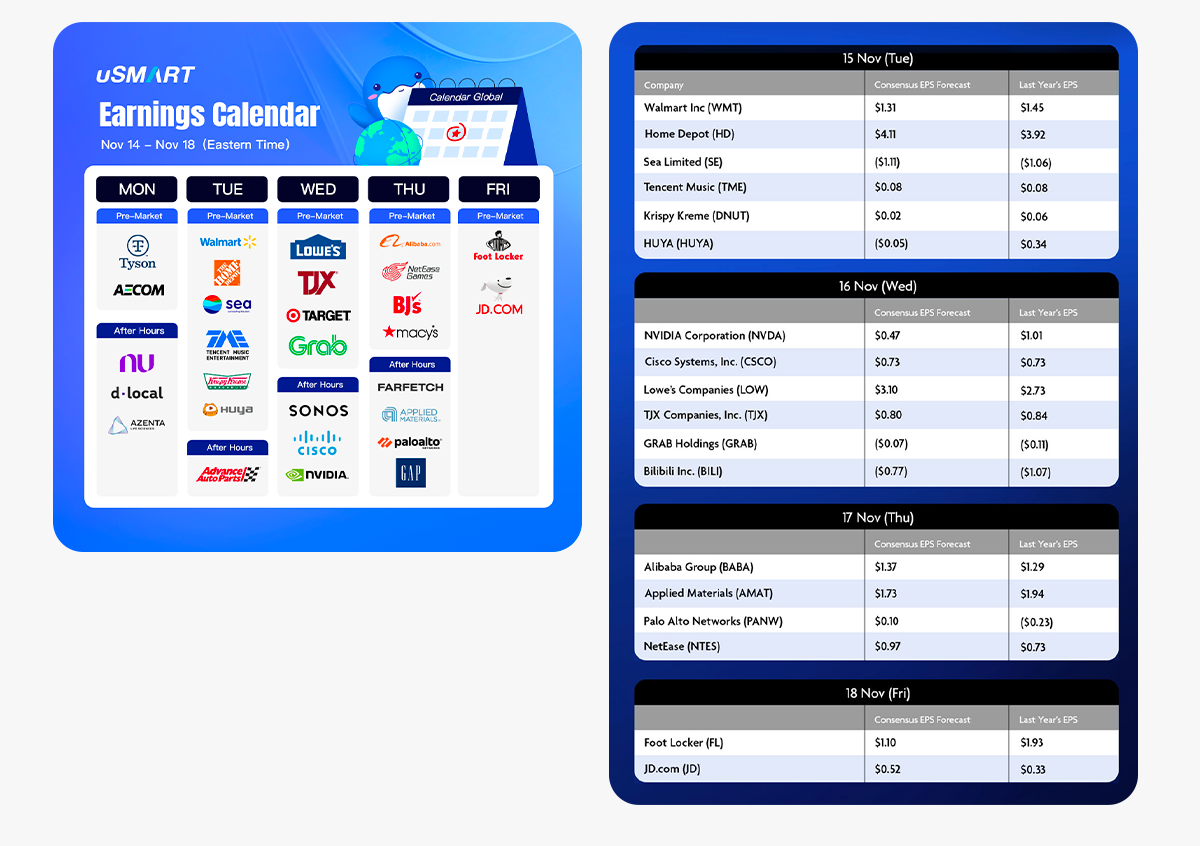 Signup & Get Your Welcome Bonus

Disclaimer:This article is intended for general circulation and educational purpose only and does not take into account of the specific investment objectives, financial situation or particular needs of any particular person. You should seek advice from a financial adviser regarding the suitability of the investment products mentioned. In the event you choose not to seek advice from a financial adviser, you should consider whether the investment product in question is suitable for you.
Past performance figures as well as any projection or forecast used in this article, are not necessarily indicative of future performance of any investment products. Your investment is subject to investment risk, including loss of income and capital invested. The value of the investment products and the income from them may fall or rise. No warranty whatsoever is given and no liability whatsoever is accepted for any loss arising whether directly or indirectly as a result of this article. Overseas investments carry additional financial, regulatory and legal risks, you should do the necessary checks and research on the investment beforehand.
The information contained in this article has been obtained from public sources which the uSMART Securities (Singapore) Pte Ltd ("uSMART") has no reason to believe are unreliable and any research, analysis, forecast, projections, expectations and opinion (collectively "Analysis") contained in this article are based on such information and are expressions of belief only. uSMART has not verified this information and no representation or warranty, express or implied, is made that such information or Analysis is accurate, complete or verified or should be relied upon as such. Any such information or Analysis contained in this presentation is subject to change, and uSMART, its directors, officers or employees shall not have any responsibility for omission from this article and to maintain the information or Analysis made available or to supply any corrections, updates or releases in connection therewith. uSMART, its directors, officers or employees be liable for any or damages which you may suffer or incur as a result of relying upon anything stated or omitted from this article.
Views, opinions, and/or any strategies described in this article may not be suitable for all investors. Assessments, projections, estimates, opinions, views and strategies are subject to change without notice. This article may contain optimistic statements regarding future events or performance of the market and investment products. You should make your own independent assessment of the relevance, accuracy, and adequacy of the information contained in this article. Any reference to or discussion of investment products in this article is purely for illustrative purposes only, is not intended to constitute legal, tax, or investment advice of any investment products, and must not be construed as a recommendation, an offer or solicitation for the subscription, purchase or sale of the investment products mentioned. This article does not create any legally binding obligations on uSMART. uSMART, its directors, connected persons, officers or employees may from time to time have an interest in the investment products mentioned in this article.